Many of our play sets are available with several different roof options to choose from - our classic vinyl canopies and our natural tongue & groove roof (several different wood roof styles available).
Details of each roof style are shown below to help you choose the roof that's right for you and your family:
---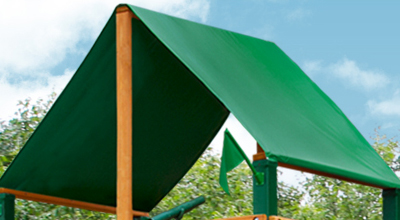 VINYL CANOPIES
Our original heavy-duty vinyl canopy offers protection from the sun and provides shade and cooler temperatures!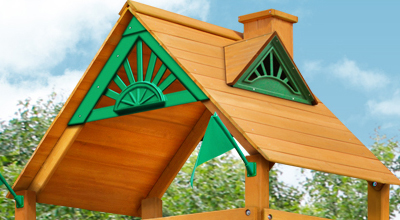 STANDARD ROOFS
Our 100% cedar wood roofs are made of the same high quality lumber as the swing set. All include dormers and a chimney. We also have two add-ons you can add to your set, either a Treehouse Add-On or the Treehouse with Fort Add-On (details below).
STANDARD ROOF + TREEHOUSE KIT
Our Standard Wood Roof with the addition of a Treehouse Add-On, which includes two windows with working shutters, giving the front of the set a semi-enclosed look.
STANDARD ROOF + TREEHOUSE & FORT KITS
Our Standard Wood Roof and Treehouse Kit with the addition of a Fort Add-On - this add-on encloses the back of the main deck and includes two decorative windows. With the Treehouse & Fort Kits added, both the front and the back of the upper deck are at least partially enclosed.
MALIBU ROOFS
A twist on our standard wood roof. Made of the same high quality cedar lumber, these extended-height roofs include decorative sunbursts, Pinnacle Dormers with decorative windows, and a chimney. These roofs also come with two solar wall lights!