Many of our Regal, Imperial, and Empire Sets are available with several different roof options to choose from - our classic vinyl canopies, our signature Sunbrella® canopies and our natural tongue & groove roof (several different wood roof styles available).
Details of each roof style are shown below to help you choose the roof that's right for you and your family:
---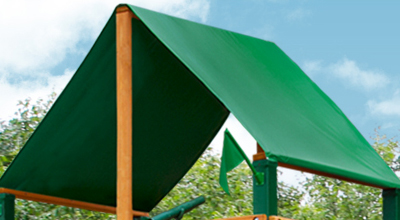 VINYL CANOPIES
Our original heavy-duty vinyl canopy. Vinyl canopies offer protection from the sun and provide shade and cooler temperatures!
---
SUNBRELLA® CANOPIES
Our fashion-forward Signature roof option is 100% authentic Sunbrella® fabric. Sunbrella® fabric resists stains and fading, even through intense sunlight exposure. (Click here to learn more about Sunbrella® fabric.)
---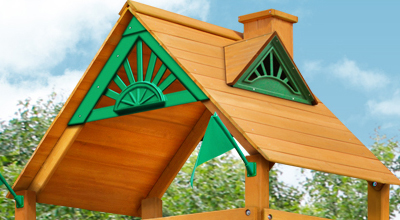 STANDARD ROOFS
All cedar wood roofs, made of the same high quality lumber as the swing set. Many include dormers and a chimney. We also have two add-ons you can add to your set, either a Treehouse Add-On or the Treehouse with Fort Add-On.
---
RIVIERA ROOFS
A twist on our all cedar wood roofs. Made of the same high quality lumber as the swing set, these roofs include decorative sunbursts, dormers with decorative windows and chimneys. These roofs also come with two solar wall lights!